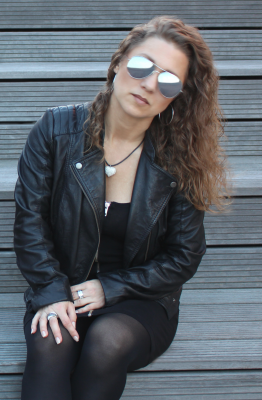 SANNANDA, meaning "True Spirit" in Swedish, is a Grammy nominated singer and songwriter. At a very young age she knew that her calling was to sing to the world. Already at the age of twelve she started participating in major musicals and operas professionally. She also spent five years in music class, which greatly inspired her to create her own music. With her burning passion for writing and recording music she doesn't only make music for her own projects, but also for other artists.
In the summer of 1993, her whole family moved to Florida, U.S., where she got the opportunity to work with various livebands during a period of eight years as a professional singer and entertainer.
Later on she also collaborated with the group Basic Element in the recording of the track "Rage", which was released on their album "The Truth" in 2008. She also did a collaboration with Outfly (a.k.a. Dynamic) where she co-wrote and recorded the EuroTrance track "La Marche de la Lune", which was released by Warner Music Canada in 2003 and Robbin's Ent./BMG, U.S.A in 2004. The single became #1 on iTunes, U.S.A., #4 at Billboard in U.S.A, Top 30 in Canada and got Grammy nominated for BEST DANCE 2003 in Canada.
She has also recorded six dance re-makes for the ABSOLUTE HITMANIA compilation, which were released in stores nationwide in Sweden between 2004-2005 by EVA Records (EMI). During that same time she wrote a track for the Swedish television show Fame Factory. The Swedish artist Carola Becker preformed it live on one of the television finals and it was released in Swedish stores as well.
Sannanda released her own pop/rock album "Believe In Something More" 2011, which includes the single "Have A Little Faith", released that same year. Musicvideos are made to two of the tracks on the album.
Since 2008 Sannanda has almost exclusively collaborated with the producer and Dj LA Rush. They started their own lable by the name Rush Records Sweden that same year and in 2010 they released "Take Your Time", their first single together as a duo. Now they've released a total of eleven singels and 10 musicvideos, and their next single will be released very shortly. These last couple of years she has also collaborated on releases with Martin Natanael, D3LROY, Dreamell and Magic Motion. Some more collaborations are in the pipeline.
One of Sannandas stongest traits is creating harmonies and voice arrangements for all of her own material. Throughout these last couple of years she has also made harmonies and other various parts in most of the remixes that LA Rush has made for other artists. One of the most successful ones is a new track from KC & The Sunshine Band called "Movin' Your Body" where she sings the chorus. The remix hit place #33 on Billboard in the US.
www.facebook.com/sannandamusic