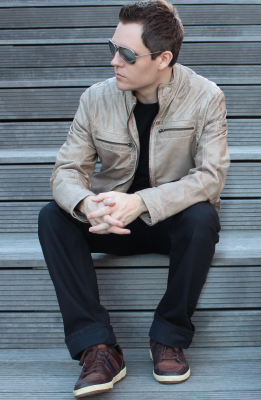 LA Rush (pronounced L.A. Rush) began his journey back in 1996, when the eager Swedish teenager got his hands on a tracker-music-program, like those used by such artists as Axwell and Deadmau5 at that time. One of his classmates suggested the name L.A. Rush, because during his time in school friends called him L.A, which are his initials.
About 6 months later he released his first track, "Sunset" to some local dj´s, who instantly started to play it. This convinced him even more to continue, the result became an EP including "Sunset", released to dj´s and friends, in 1998.
In fall 1999 he got his first gig as a dj playing only his own original music. He says:
"The response was fenomenal and I ended up having to play some of my tracks twice, since they just wouldn't leave the dancefloor towards the end. It was an overwhelming experience to me though I had no clue as of what to expect at first."
His two consecutive singles "Around The World" and "I Love You" were both played on a local radiostation during the same time.
Between 1999-2002 he started to study film and music-production which led him to work behind the camera of several big tv/film productions in Sweden, such as "Bingo Lotto", the comedy duo "Stefan & Krister" and the huge comedy group "Galenskaparna" which he also was a part of in one of their tv-series from year 2000 called "Gladpack".
"During my time of studies I came to realise that in order to moved my carrier ahead, I would have to aquire more advanced equipment. So I started using Cubase and invested in several new synthesizers."
In 2002 he got his first gig at a bigger venue and played his own tracks for over 1000 people. "That was another big thing for me, going up on stage and see so many people dancing and screaming for one hour to my own tracks. What an amazing feeling it was!"
In 2004, he released his first official single "I Will Follow You" to an even bigger audience, which became a smash-hit on several internet radiostations. "When I wrote "I Will Follow You", I wanted to take my music slightly in another direction, found a singer and recorded vocals for the first time to one of my own songs. I wanted to make a track that was more suitable for the radio." The track ended up topping some of the charts from eleven to twenty weeks.
In 2006 he did his first offical remix for the Swedish dj Richi M and released his second single "Come Back", which also became a smash-hit on several internet radiostations.
Between 2007-2009 he released his third single "Whatever It Takes" togheter with the swedish duo Sinus, remixed the Danish super Dj, Dj Encore's single "Walk On Water", plus remixed the No1 on the US Billboard Dance Chartsingle, the single "Release Me" by Agnes (winner of Swedish Idol, 2005), amongst others. In 2008 he also started to work with the experienced singer and co-writer, Sannanda.
Since the start of Rush Records Sweden (his record lable) in 2010 he's made a bunch of remixes for several artists in the US, whereas the remix that got the most attention was "Facing A Miracle" by the 80's icon Taylor Dayne (artist of "Tell It To My Heart", 1987.)
Between 2011-2014 he focused on his own material togheter with Sannanda and released several singles "Night Fever", Where Have You Been" as well as recorded and edited their musicvideos. They recorded "Where Have You Been" in Greece. 

In 2014 he made a remix for the superstar dj Funkstar De Luxe "Sun Is Shining" 15th Anniversary edition which got a lot of attention around the globe.
In 2015 he started to produced more remixes again, for the american artist Raquela, the Swedish electropop duo 047, Capo & Comes and Speedboats & Big Explosions feat. LaShonda from Canada. He and Sannanda performed at different venues during the summer in Sweden. He also released the singles "You Are The One", "One Touch Of Heaven" and "Thing Called Love" during the year.
2016 has been one of the most busy years, remixing singles for Da Buzz, Gothenburg Beats, We Are Two, Sir Duke, Sanny X, Basic Element & Dr Alban. He and Sannanda performed at different venues in both Sweden, Finland and Iceland during the year. He released the single "Hall Of Mountain King" as well.
2017 was his most busy year so far, making over 30 remixes and released 3 singles/musicvideos. Remixing singles for KC & The Sunshine Band, Sunfreakz, Whitney Tai, Nalaya Brown and many more. He also released the singles "The Pink Panther", Summervibe" and "I Am The Music".
In 2018 he released a single with Polina Griffith "Give It To Me" and did remixes for artists like, Darude, Ari B, Sannanda, SelinLouise, Imagination, George Von Liger, David Guetta and more.
During 2019 he remixed singles for Terri B, A.J. Salvatore, Sörby & Jennebo, Patrik Reeman, Loleatta Holloway, Rozalla, East 17, KC & The Sunshine Band, Isabella Widjestrand and more.
In 2020 he released remixes for Rozalla, Daddy´s Groove feat Ron Louis Smith The 2nd, Lova, Kaya feat Sannanda, Dj Sammy and Mr. Root.
He also been working on new music and planning to release it during 2021.