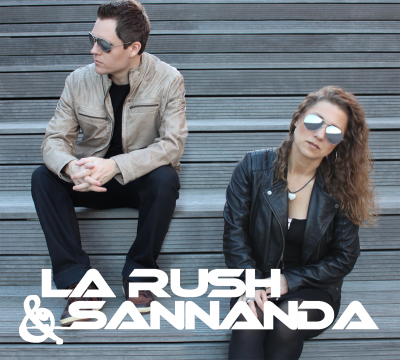 LA RUSH & SANNANDA is a Funky/Dream-House, Vocal-Trance duo from the westcoast of Sweden. The act consists of composer, producer, dj & billboardcharted remixer, music video director LA Rush & Grammy nominated, billboardcharted sing/songwriter Sannanda.
They started to collaborate in early 2008 and since then they have started their own recordlable, Rush Records Sweden, released 10 singles/musicvideos, performed in front of both smaller and bigger crowds at different events and nightclubs in Sweden, Finland and Iceland, produced and recorded the 2016 Pride Anthem in Copenhagen and Malmö amongst other things.
LA Rush have also done many remixes during the years, both official releases/singles as well as promosingles for many artists/dj´s such as A.J. Salvatore, Terri B, Rozalla, Tess Merkel, Mr Root, The Weather Girls, Dj Sammy, East 17, Darude, Justin Timberlake, KC & The Sunshine Band, Ari B, Owen Paul, Sunfreakz, Nalaya Brown, Britney Spears, Basic Element, Dr Alban, Da Buzz, Katy Perry, Funkstar De Luxe, Richi M, Taylor Dayne and Swedish winner of Idol 2005, Agnes, among many others.
He also started his own mix/radoshow August 2017 which is air:ed on several radiostations both in Sweden, UK and USA each week and is supported by Stonebridge, Freemasons, Airbase, Alexandra Badoi, The Blizzard, Dj Tonka, KC & The Sunshine Band, Imagination, Terri B, Sunfreakz, Funkstar De Luxe and many more.
Sannanda have also released her own poprock album in 2011, and have released several songs included on compilation albums mainly in Sweden, wrote a song to the swedish tv/music program "Fame Factory", released the single "La March De La Lune" in 2003 which became #4 on the Billboard Dancechart the same year, done voicovers in the US, and performed professionally in the US for many years, before she moved back to Sweden and started the collaboration with LA Rush.